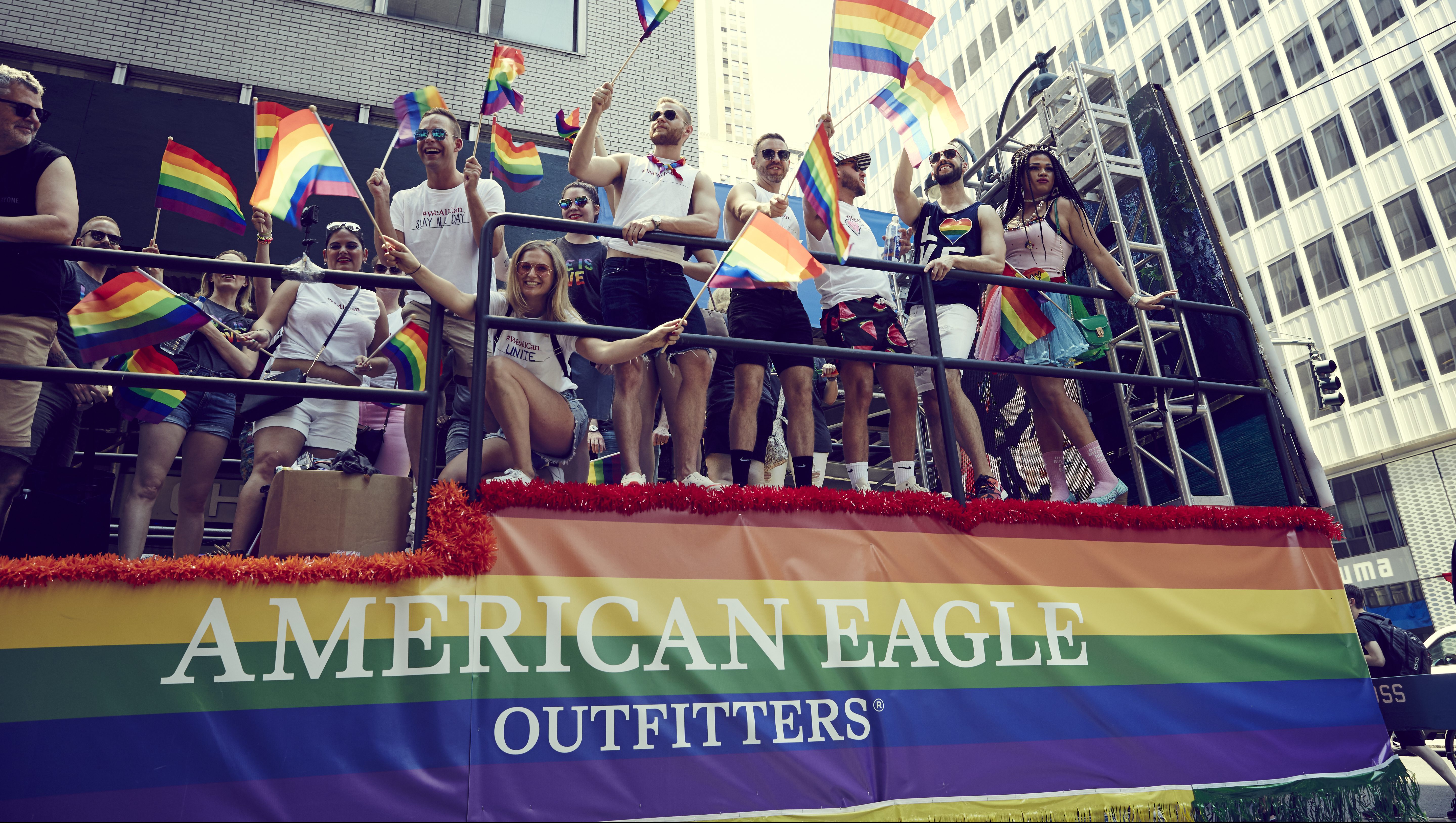 We honor the power of this generation to take a stand on the issues they believe in. AEO inspires today's youth through a variety of program and partnerships that make a difference in their lives and in their communities.
It Gets Better Project
AEO celebrates the diversity of one through the inclusion of many. We are proud to partner with It Gets Better Project, an organization that uplifts, empowers and connects LGBTQ+ youth around the world. Since our partnership launch in 2017, American Eagle and our customers have donated more than $1.8 million including sales of our AE Pride Collection! With our support, It Gets Better Project has amplified stories of hope and encouragement across the globe.
Feeding America
Due to the impact of COVID-19, 50 million Americans were food insecure in 2020, an increase of more than 35% from 2019. Through our partnership with Feeding America, the nation's largest domestic hunger-relief organization, AEO is fighting to end hunger. In November and December of 2020, American Eagle and Aerie hosted holiday campaigns and social media spotlights to raise money and provide meals for those in need. To date, American Eagle, Aerie and our customers have raised enough funds to provide more than 13 million meals to those in need since November.
Bright Pink
This year marked the 11th year that Aerie has honored Breast Cancer Awareness Month and joined forces with Bright Pink, a non-profit dedicated to saving lives from breast and ovarian cancers by empowering women to be proactive about their health at a young age. Our 2020 campaign raised $130K thanks to Aerie and our customers with the limited edition Bright Pink tee selling out in less than one week! In addition, more than 7,000 Aerie customers utilized Bright Pink's Assess Your Risk quiz, an interactive tool which enables women to determine their risk level for breast and ovarian cancer.
NEDA
Aerie proudly partnered once again with the National Eating Disorders Association to support prevention and reduce the stigma associated with eating disorders. Aerie's 2020 campaign raised $200,106 through a limited-edition body confidence tee with 100% of sales benefiting NEDA, customer donations in stores, and a $1 donation for every unretouched photo shared on social media with #AerieREAL. Aerie also sponsored the Body Project Experience as well as virtual NEDA walks across the country.
HeadCount
In 2020, AE launched This Is Our Time, a campaign mobilizing customers and associates to register to vote in the presidential election. The initiative included a partnership with HeadCount, a non-partisan organization that uses the power of music to register young people to vote and participate in democracy. Thanks to support from AE and Aerie, HeadCount more than doubled its goal of voter registrations during this election cycle by registering more than 432,000 Americans to vote! In addition, AE, Aerie and our customers stepped up in a huge way by raising more than $400K to support Headcount's work.
Crisis Text Line
Since the start of the COVID-19 pandemic, Crisis Text Line – a 24/7 support line for those in crisis- has seen a 40% increase in users as people face anxiety, isolation, grief, and financial insecurity. To do our part, we partnered with Crisis Text Line multiple times in 2020 – to commemorate World Mental Health Day in October, we launched Mental Health Awareness tees on AE.com with 100% of sales benefiting Crisis Text Line, and for Mental Health Awareness Month in May, we raised $262,198 through customer donations and face mask sales. These donations help provide access to free, confidential support for people in distress. Reminder: you can text EAGLE to 741741 for free 24/7 access to a live, trained Crisis Counselor.